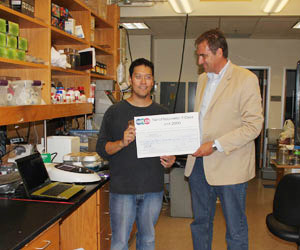 Munich, Germany and Westlake Village, CA (August 31, 2012) – Implen GmbH and Implen, Inc. are proud to announce the sale of the 2000th NanoPhotometer® unit. The NanoPhotometer® P-Class is an All-in-One spectrophotometer with proven micro volume (0.3μl) and cuvette performance. Optimized mainly for quantification and purity assessment of nucleic acid and protein samples, the NanoPhotometer® P-Class brings unmatched performance and features in a flexible, compact, and easy to use spectrophotometer.
The happy customer who received unit 2000 is Dr. Geoffrey Chang, who purchased the NanoPhotometer® P-Class for his lab currently located at The Scripps Research Institute. In honor of this special occasion, Implen made a $2,000 USD donation in Dr. Chang's name, to the Downs Syndrome Association of San Diego. Dr. Chang also received a personal installation of his new NanoPhotometer® P330, and a special presentation of the check for his donation.
About Implen Implen is a privately held corporation that is a leading supplier for spectroscopy instruments and consumables for the non-destructive analysis of ultra low volume samples. The company focuses on biological, chemical, and pharmaceutical laboratories in industry and research.