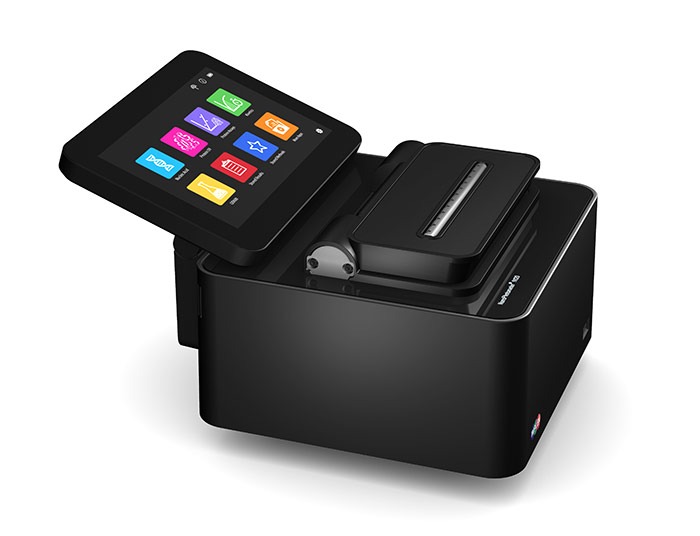 The Microvolume High Throughput Champion
Implen Munich, Germany (April 3, 2019)—Implen GmbH is excited to announce the release of the NanoPhotometer® N120, an absorbance based UV/VIS Multi-Channel Spectrophotometer. The instrument's extremely compact and stand-alone design (20x20x12 cm) allows for rapid full scan analysis of up to 12 samples (2µl) from 200 – 900 nm at a time over a wide concentration range (2 – 8,000 ng/μl dsDNA). The N120 provides reliable data for the accurate determination of sample purity ratios, while reducing operational steps for the user by 33%. Powered by a 2.4 GHz Intel Celeron processor, the N120 significantly reduces measurement time providing high resolution full scan data in as little as 1.7 seconds per sample.
The NanoPhotometer® N120 features our unique and proprietary 12 Point Technology™ which consists of several positioning guides for single and multi-channel pipettes, patented illuminated sample windows as well as a software controlled animated sample processing grid to ensure convenient and error-free sample application for the user.
Implen's NPOS is ready for digital transformation by providing various options for database integration utilizing a REST API. The NanoPhotometer® can be easily incorporated into workflows by integration with any major LIMS provider for flexibility and added efficiency. Data export and device control can be executed directly through the LIMS interface on an external computer.
The NanoPhotometer® N120 can be combined with the new optional CFR21 software package providing FDA 21 CFR Part 11 compliance for electronic records and electronic signatures. This compliancy software, providing user management, is an ideal feature for the Pharmaceutical and Biotechnology industry which rely on proper electronic record keeping and data integrity.
About Implen: Implen is a privately held corporation that is a leading supplier for spectroscopy instruments and consumables for the non-destructive analysis of ultra-low volume samples. The company focuses on biological, chemical, and pharmaceutical laboratories in industry and research.